ATTENTION ASPIRING PERMANENT COSMETICS ARTISTS!
My name is Clarissa Stefania, and I am here to help you kickstart your career in this exciting industry. As the founder and creator of the OMBRE BLUSH BROW and BLUSH TO BOLD PIGMENTS, I have trained hundreds of artists worldwide – from beginners to some of the leading Artists in the industry to date.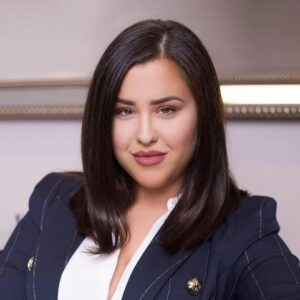 My journey to success wasn't easy. I started with little knowledge or understanding of the industry, working in London's leading hotels in the spa of the Dorchester. But my drive and determination propelled me forward, and I eventually achieved multiple awards and recognition, working with famous celebrities and high-profile clients from around the world.
Fast forward seven years, and I am now one of the biggest names in the PMU industry – with a 9-month waiting list for my procedures, multiple masterclasses worldwide, and one of the most in-demand beginners training courses for permanent cosmetics in the UK. I am also the founder of the BLUSH TO BOLD PIGMENT LINE, a pigment specifically created to achieve the best ombres in the brow world.
But my success didn't come without risk. Against the advice of my friends and family, I took a leap of faith and invested in myself. And it paid off – big time. Now, I believe that the best investment you will ever make in life is in yourself.
So if you want to take your career in permanent cosmetics to the next level, take a shot and invest in yourself. You won't regret it.
specifically, if you're interested in learning the art of ombre blush brows or blush to bold techniques, my courses are designed to provide you with everything you need to know to become a successful permanent cosmetics artist. You'll learn not only the technical skills required for the procedures but also the business and marketing strategies that will help you build a successful career in the industry.
My courses are tailored to suit beginners, as well as experienced artists looking to expand their skillset. I provide ongoing support and mentorship to all my students, ensuring that they have the tools and resources they need to succeed.
In addition to my training courses, I also offer my signature OMBRE BLUSH BROW and BLUSH TO BOLD PIGMENTS. These pigments have been specifically created to achieve the perfect ombre effect in the brow world, and they have been used by hundreds of artists worldwide to create stunning results.
So if you're ready to take your career in permanent cosmetics to the next level, invest in yourself and join the hundreds of successful artists who have trained with me.
information on my courses:
I offer both online and in-person training options, so you can choose the format that best suits your schedule and learning preferences. My online courses include detailed video tutorials, downloadable course material, and ongoing support through a private Facebook group. My in-person courses include hands-on training with live models, and you'll have the opportunity to learn directly from me and ask any questions you may have.
I cover all aspects of ombre blush brows and blush to bold techniques, including proper equipment and product selection, color theory and pigment mixing, skin anatomy and physiology, sterile techniques, and aftercare instructions. You'll also learn how to create custom brow designs for each of your clients, and how to adapt your techniques to suit different skin types and tones.
I believe that continuous learning is key to success in this industry, which is why I offer ongoing mentorship to all my students. Whether you need help troubleshooting a client issue, or advice on how to grow your business, I'm always here to support you.
If you're interested in learning more about my courses, including pricing and availability, please don't hesitate to contact me. I'm excited to help you take your career in permanent cosmetics to the next level!
SPECIFICALLY, MY COURSES INCLUDE:
1. Ombre Blush Brows Fundamentals: This course is perfect for beginners who want to learn the basics of ombre blush brows. You'll learn how to properly use the machine, select the right pigment, and create beautiful ombre blush brows. This course is available online and in-person.
2. Blush to Bold Technique: This course is for experienced artists who want to take their skills to the next level. You'll learn how to create more dramatic looks using the blush to bold technique. This course is available online and in-person.
3. Private Training: If you prefer one-on-one attention, I offer private training sessions. We'll work together to create a customized plan that suits your individual needs and goals. This course is available in-person only.
4. Business Coaching: In addition to technical training, I also offer business coaching for artists who want to grow their permanent cosmetics business. We'll cover topics like marketing, pricing, and client management. This coaching is available online and in-person.
All of my courses include ongoing support and mentorship to ensure your success long after the course is complete. I'm committed to helping you achieve your goals and become a confident and skilled permanent cosmetics artist.
My course aren't for the faint hearted! I expect every student to put laser beam focus into every part of their training, and although the training days start at 10:00 Am and are scheduled to finish at 5:00, the live model days can go on into the late hours of the evening. This is your career and my reputation, and I will take you to the absolute edge of your capabilities to extract every inch of  creativity out of you to give you to join some of my top Artists.
ONE MORE THING, 
THE 5 DAY COURSE IS JUST THE BEGINNING……
Your success after completing your training and case studies will be determined by how much work you as an individual are willing to put in. My most successful students are the ones who get focused first and stay focused. Getting focused is easy, but staying focused and working every hour possible is what will determine how successful you will be and how quickly you are going there. I tell all of my students,
If you think you have what it takes to become a Stand Out Artist and become an elite in the industry, we will be launching some more training dates shortly.
You can also check to see Date Releases Below
Do you have what it Takes?